Accessible, resilient, sustainable, open: One Waterfront Gala attendees share their hope for the future of Boston's waterfront
More than 300 supporters, business leaders, and public officials joined The Trustees for the second annual One Waterfront Gala in the Seaport on Thursday night, to hear updates on the vision to create more green space along Boston's vulnerable waterfront. In addition to representatives from 21 Boston-area businesses and corporations, The Trustees was also honored to host several members from its newly formed CEO Roundtable, a group of senior Boston executives helping to shape and support the work of its One Waterfront Initiative, an effort to design a new generation of iconic, climate resilient, and publicly accessible waterfront parks in Boston.
Guests were welcomed by gala co-chairs Uzo Erlingsson, Elizabeth de Montrichard, and Beth Johnson. During opening remarks, CEO Roundtable Chairman Ronald O'Hanley, President & CEO of State Street Corporation, thanked City and State officials for their leadership, and noted that for him and many of the Roundtable members, the initiative hits close to home.
"Why do we do this? For some of us here, it's very personal," said O'Hanley. "For most of us here, it's about how we think about the next generation and what they will inherit." He added, "When we think about the One Waterfront Initiative, it's about a more sustainable Boston but it's also about a more inclusive Boston—for current, and future, residents."
Trustees President & CEO Barbara Erickson also took to the podium, thanking Mayor Martin J. Walsh and his cabinet for their commitment to a more resilient, and welcoming waterfront. Updating the attendees on the progress of the One Waterfront Initiative, Erickson asked the crowd to take out their phones, and take part in an interactive poll to share their concerns, hopes, and vision for the future of City shores.
"I want you to think about your favorite beach," said Erickson. "Notice the dune grass, the spike in elevation, the thick matting of sand and silt. This is nature's way of absorbing water. Like a sponge, or a buffer, and more attractive than seawalls. There are masterful ways deployed by cities globally to design a new generation of parks that can truly assist our response to water infiltration while also providing public recreation and bring vibrant beauty to neighborhoods. If we recognize that open space can help defend our communities from the realities of climate change, what more important place could The Trustees invest in than Boston?"
Turning to live poll results, audience responses showed a concern for flooding and storms, excitement over the benefits new waterfront parks could bring—including improved resilience and social cohesion—and hope for a more accessible, resilient, sustainable and thriving waterfront city.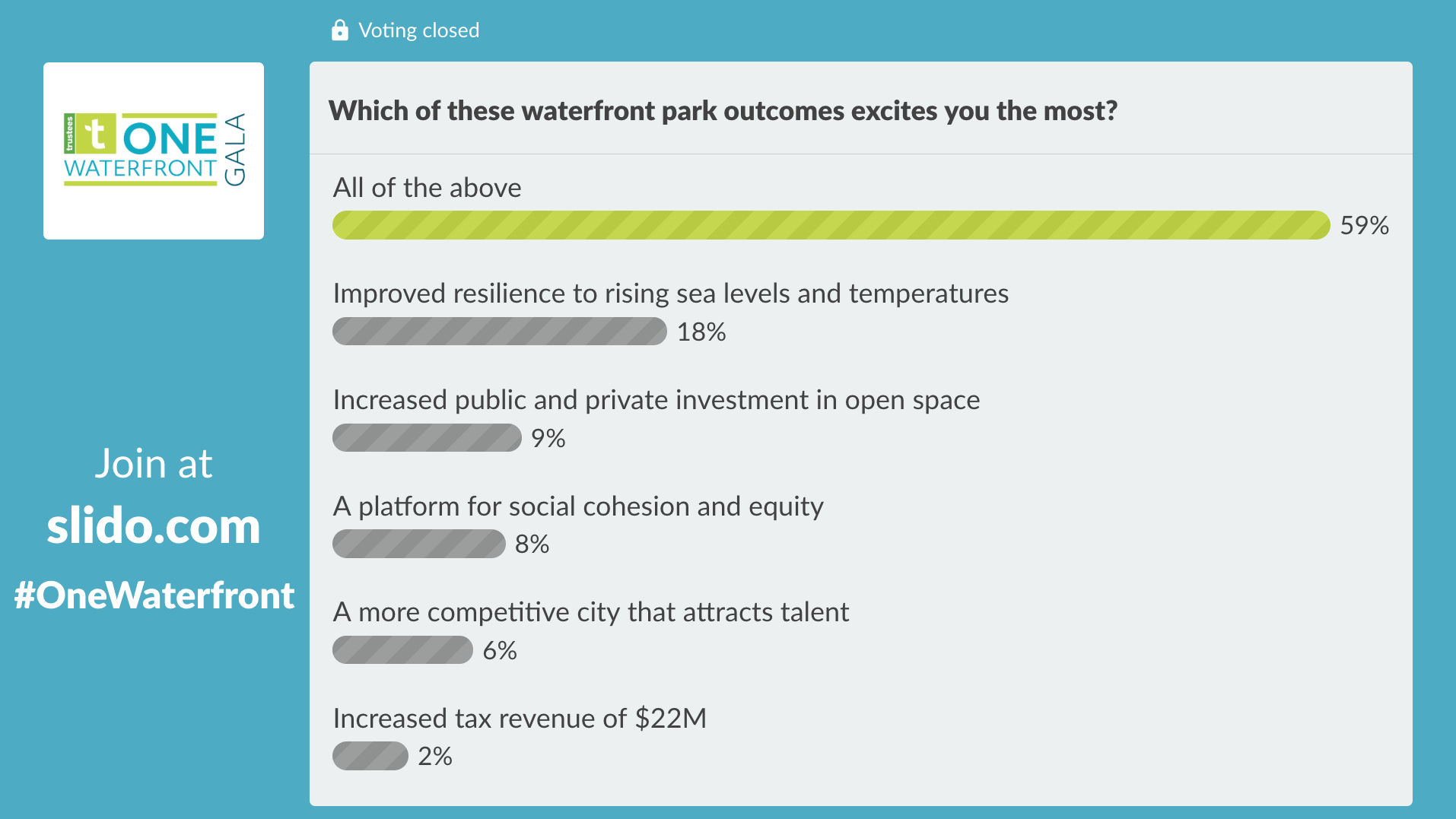 Thanking the City and State as well as corporate and private sectors for their leadership, Erickson noted that significant philanthropy has already been dedicated to the vision, adding, "We can dream big because of philanthropic commitment—incredible passion and leadership from foundations and individuals who are investing in a Boston for the future. We are invested in creating parks where people live and work, and after four years of our One Waterfront Initiative, we have the needed ingredients."
The Trustees, founded in Boston, is the state's oldest and largest conservation organization and cares for 118 special places all over the Commonwealth: farmland, national historic landmarks, botanical gardens, parks and community gardens—including 56 in the City of Boston. Additionally, as the largest private owner of coastline in the state with 120 miles in its care, The Trustees has prioritized protecting vulnerable coastal property from climate change impacts such as sea level rise, and more intense and frequent storms.
"If you believe we need and should have new destination parks on the water that reduce our vulnerability, if you believe we can create parks that will be internationally recognized for their design and be beloved by all the City's residents, and if you agree that the moment is now to invest in a beautiful, resilient Boston for future generations, then my friends, you are in good company," added Erickson. "Together we are building One Waterfront."
(Photos courtesy Michael Blanchard Photography)
For continuing updates and further information, subscribe to this blog by clicking here.